Goalkeeping
About
Each of our Summer Residential camps will offer a premier training environment for goalkeepers. Each day, the goalkeepers will start with a session led by our head goalkeeper trainer before breaking off into a training session with the team they were placed during the start of camp. Our head goalkeeper coach will develop each goalkeeper during their time together, then evaluate the goalkeepers when they are in their team training environments
Register
During the registration process, make sure to add you camper's position as goalkeeper. This will automatically slot them in to sessions with our head goalkeeper coach, Stephen.
ID Opportunity
Our goalkeeper coach is constantly evaluating each goalkeeper throughout the duration of the camp. When camp concludes, each keeper will receive a detailed evaluation so they understand their strengths and weaknesses
We are pleased to be bring back one of the Nation's best goalkeeper coaches, Stephen Hoogerwerf. Check out Stephen's awesome resume below!
Aidan Davison—Goalkeeper Coach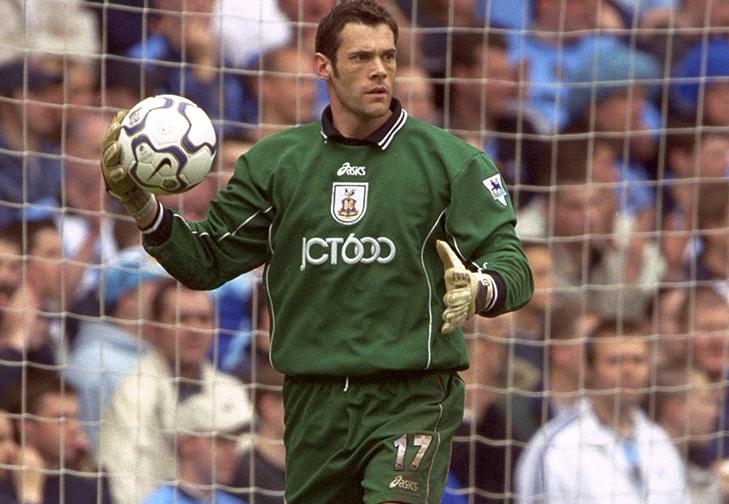 Biography
Played 20 years as a professional in England, at every level including the English Premier League with Bolton Wanderers and Bradford City.
Earned promotion to the Premier League with Bolton Wanderers, League Cup Final and FA Cup quarter finals.
Competed in the Inter-Toto European Cup competition with Bradford City
Promoted to the Championship League with Grimsby Town via play-offs at Wembley Stadium. Set a club record of 50 clean sheets in 100 games in League 1 and the Championship. Auto Windscreen Cup winners at Wembley stadium.
Earned automatic promotion to the Championship League with Colchester United. Went on a 22 home game unbeaten streak in League 1 and the Championship.
Represented Northern Ireland in European Championship and World Cup qualifying campaigns.
Retired from playing at age 40 with over 400 senior first team appearances at all levels.
Worked alongside Goal Keeping coaches: Peter Shilton, Pat Jennings, Neville Southall, Alan Hodkinson, Eric Steele, Seamus McDonough, Fred Barber and Ian Macfaul.
Worked alongside managers: John Barnwell, Paul Hart, Sam Ellis, Bruce Rioch, Colin Todd, Ian Porterfield, Phil Brown, Alan Buckley, Neil Warnock, Adrian Heath, Paul Jewel, Chris Hutchings, Frank Clark, Phil Parkinson, Geraint Williams, Brian Hamilton and Lawrie McMenemy.
Coached at Premier League level at Hull City as Reserve Team Manager. This included coaching over 15 International footballers from various nationalities.
Coached 3 years with PDL, 2 as Head Coach at Jax Destroyers. This included playing a friendly game against the USA National team behind closed doors prior to their game against Scotland.
Assisted in coaching IMG PDL team for 1 year.
Coached the U16s Boys Academy team at IMG.